Edinburgh Fringe 2018
6th - 11th August 2018
Back
Zenith Youth Theatre Company are on the road to Edinburgh.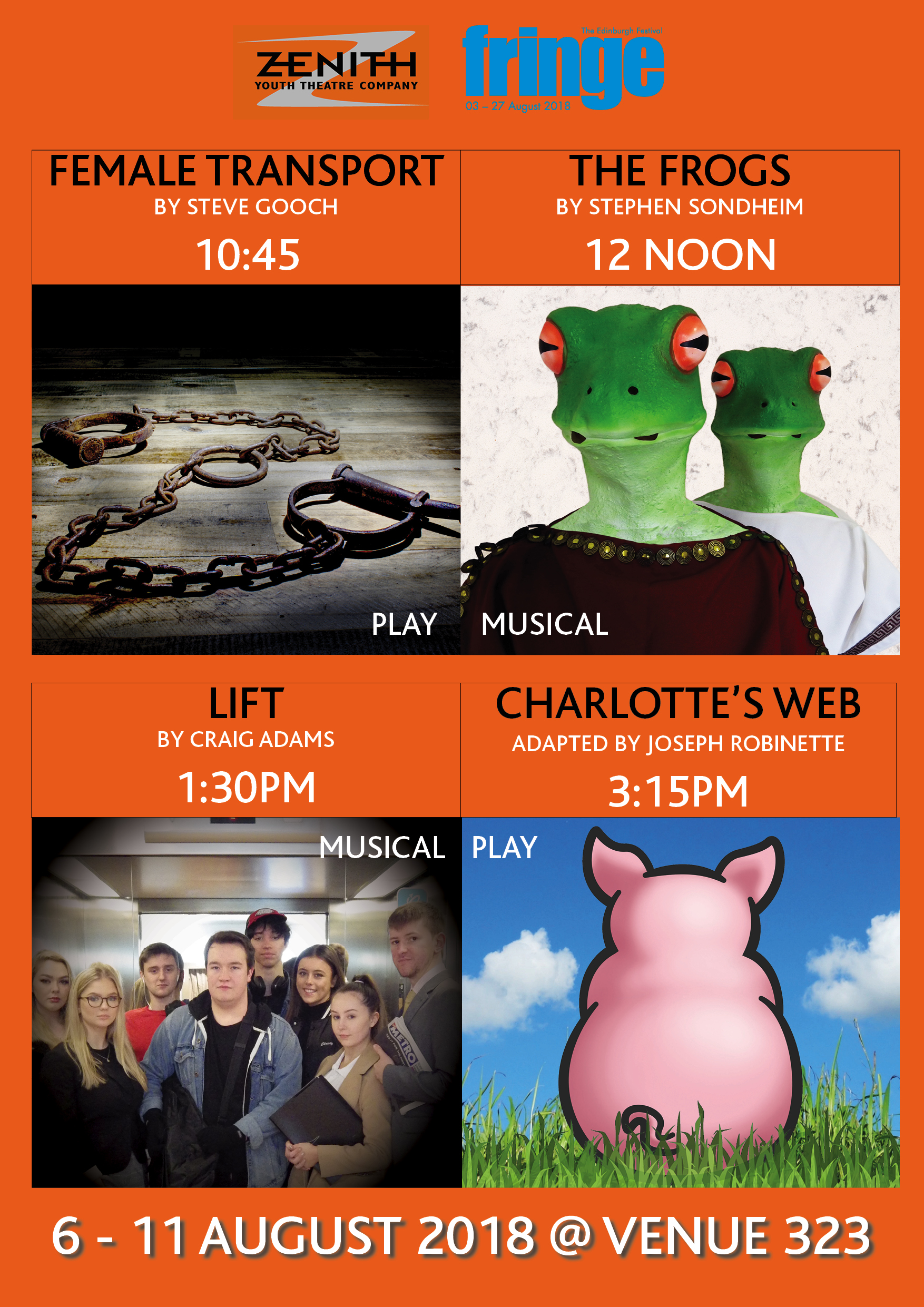 42 Young People- 4 Shows- 5 Days- One Bus- The Biggest Performing Arts Festival In The World.
What began as a daydream over a pint for the creative team at the fore of Zenith Youth Theatre Company some 18 months ago, will become a reality for 42 young people this August when they head for Edinburgh to perform 2 musicals and 2 plays on a specially converted bus.
The Bath based, multi award winning Youth Theatre Company have already earned a reputation over their 50 year history for staging full scale musicals which defy the boundaries set by youth theatre. In this, their most ambitious project to date, the cast of 13 to 21 year olds will be staging 2 musicals and 2 plays, each being performed once a day for five days of the festival.
Situated on The Meadows, visitors to Venue 323 will find a unique performance space on a fully converted single-decker bus. The bus can accommodate 20 audience members in its intimate auditorium, offering a truly unique experience for audiences and performers. The productions offer something for everyone and have been curated to challenge the talented company.
Female Transport is a powerful drama about six women sentenced to be shipped to a penal colony in Australia. The Lift is a modern British musical set in the lift between Covent Garden Tube Station platform and street level taking us on a journey through one of its passengers' imaginations. The Frogs is a rarely performed Sondheim classic and Charlotte's Web is the loving story of a friendship between a pig named Wilber and a little grey spider called Charlotte.
The creative team behind the project features the combined strengths of Scott Rogers, Artistic Director of the company for the last 27 years, Kerry Irvine, Producer for Bath Spa University, co-director of theatreLab and associate producer of the Lion and Unicorn theatre in Kentish Town, and Joel Deane, professional actor and practitioner in Youth Theatre and former member of Zenith. They, along with the Zenith Family, are hugely excited by this exciting next chapter in their history and the opportunity to expand their young members creative aspirations in this most exciting of environments.
CHECK OUT THE PROMO FOR LIFT