A FULL ZENITH CAST, 4 SHOWS, 1 BUS AND THE LARGEST ARTS FESTIVAL IN THE WORLD.
WE HAD AN AMAZING TIME AND VERY SHORTLY YOU WILL BE ABLE TO BROWSE THROUGH OUR PHOTOS AND MEMEORIES TAHT WE WILL BE PUBLISHING IN A PHOTO / MEMORY ALBUM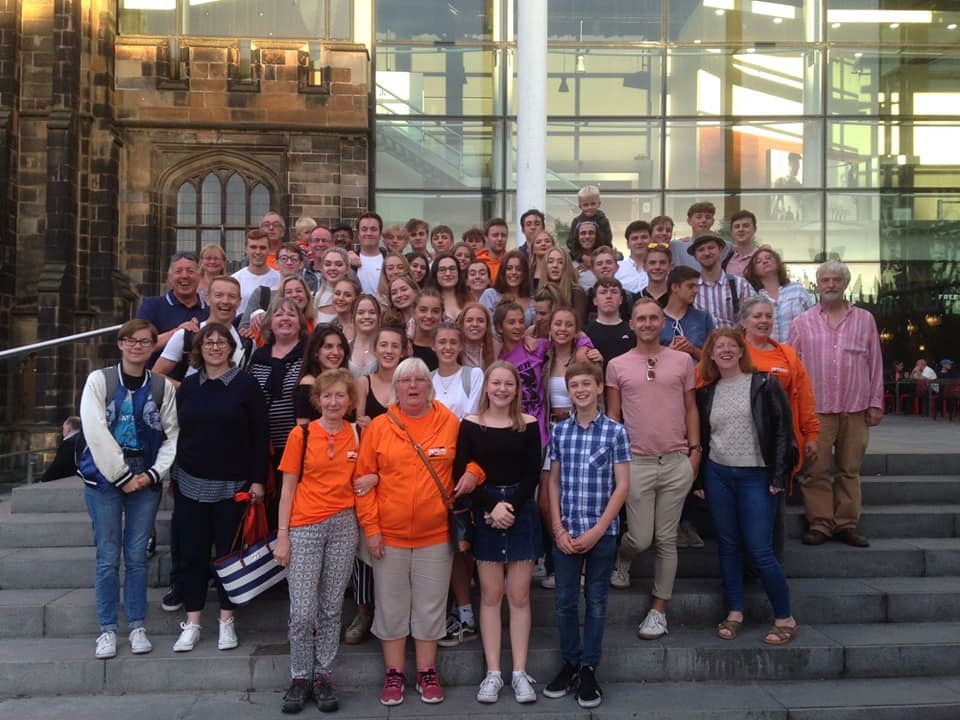 STOP PRESS - OUR PRODUCTION OF FROGS HAS BEEN NOMINATED FOR FIVE AND WON FOUR DARK CHAT AWARDS
BEST ACTOR IN A MUSICAL (MARCUS MAY - FROGS)
BEST SUPPORTING ACTOR MUSICAL (HARRY DALLIMORE - FROGS)
BEST MUSICAL (FROGS)
BEST VENUE (THE THEATRE BATH BUS)
The project involved bringing Zenith members to Edinburgh Fringe Festival for one week presenting four shows a day for one week.These performance were performed on the Theatre Bus (Venue 323) on The Meadows In the heart of Edinburgh.
With the creation of the theatre bus by Theatre Bath it became possible to bring Zenith Youth Theatre to the largest theatre festival in the world in an affordable venue.
AMONGST MANY MANY AMAZING MEMORIES AND NEW FRIENDS THE PROJECT ALSO ACHIEVED THE FOLLOWING:
Allowed a group of young people to experience and explore the largest arts festival in the world.

Demonstrated to the company how they might want to create their own work and bring it to the festival in future years

Gave the opportunity for Zenith members to perform in an international theatre festival

Whilst performing to be in a professional environment they worked alongside professional companies from around the world.

Gave the company the opportunity to stage productions they wouldn't normally be able to present due to cast size and subject matter

Gave opportunities to some ex-members to come back after professional drama training and direct some of the productions

Enhanced the profile and reputation of Zenith Youth Theatre Company on the national and international stage.

Created an even stronger bond between the company members with them making friends for life.

Provided a relatively inexpensive opportunity for young people to engage with the festival.

Expanded and widened the horizons and ambitions of Zenith and getting us used to working outside of our comfort zone.
We are very grateful to all our sponsors, volunteers parents and cast who worked so hard to make this project happen. The overall cost of this project in Zenith's book of ambitions was £38,000 and £17000 of this was met by our fundraising efforts.

WHY WAS IT IMPORTANT FOR US TO GO TO THE FRINGE
With the major cuts in arts funding and arts provision in schools it is imperative that young people are inspired and energised to explore the idea of making their own theatre without public subsidy and then presenting it to a public audience. Without this inspiration we run the risk of losing a generation of theatre makers.

COME BACK SOON TO SEE ALL OUR PHOTO AND MEMORIES - SIGN UP TO OUR NEWSLETTER ON THE HOME PAGE TO MAKE SURE YOU DON'T MISS OUT